Restaurant POS System
BEST SUITE FOR RESTAURANT ENVIROMENT
IRS F&B PLUS System provides a perfect solution for F&B Industry. We develop a system to help you on manage your table plan, inventory, sales, customers, suppliers, reports, staffs and etc. Besides, IRS F&B Plus System are easy to use and your staff can be trained up in minutes, your stock can be tracked down to the nearest measure.
Business Type

Café
Bistro
Kiosk Outlet
Coffeehouse
Pub / Saloon
Fine-dining Restaurant
Casual-dining restaurant
Bubble Tea Business
Japanese Restaurant

Language

English
Mandarin 华语
Bahasa Malaysia

Order

Table Plan
Combine Bill
Split Bill
Transfer Table
Kitchen Message
Up To 16 Kitchen Printer
Confirment
No Day End Closing

Customer

Cash Sales
Print Address Label
Customer Transaction History
Customer Point Management

Stock

Stock Re-Order Reminder
Print Barcode Using Barcode Printer Or Normal Printer (Inkjet of Laser)
Promotion Price Setting
6 Levels Selling Price
Multi UOM (Unit Of Measurement)
Multi Supplier
Ingredients

Supplier

Purchase Order
Goods Receive
Print Address Label
Supplier Transaction History

Staff

Security Access Level Controls
Commission Calculation
Staff Attendance

Report

Sales Profit Listing
Sales Analysis Listing
Customer Sales Listing
Top Sales By Item, Sales & Profit
Stock Listing
Inventory Audit Trial
etc

Others

Integrated with Mykad Reader (To Read Customer Information)
Integrated with Mifare Reader (Member Card Reader-Touch)
Integrated with Data Collector
Change Skin (Screen Colour)
SST Ready

MemberShip

Multiple Of Payment

Cash, Credit Cards, Coupon, Points Redemption
e-Wallet, Alipay, WeChat Pay, Touch and Go Acceptance, etc.

Account

- Integrated with SQL Acount (www.sql.com.my)

- Integrated with Mykad Reader (To Read Customer Information)
- Integrated with AutoCount
- Integrated with SAP
Multi-Store Software
IRS Multi-Store is a program that permits branches to send their transactions (sales, customers, inventory, vendor data & etc) to Head Office for consolidation. IRS Multi-Store uses the internet for communication, making it inexpensive to operate. All branches's data will be transmitted to head office every minute for consolidate. (it mean user can view almost real time report for all branches.)


Network License
Access to IRS Server through the networking to update the data and generate the reports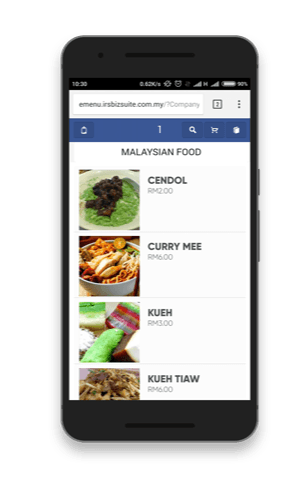 E-Menu – Self-Ordering System




Self-Ordering is a new trend and unavoidable wave of changes in F&B industry and this will dramatically reduce your workload and cost in long run.
IRS e-Menu is a Digital Menu allows your customer to immediately view the food menu on their own mobile device by scanning the QR code and your customer able to place order by themselves without any hesitation as the e-Menu interface was very easy-to-use, meanwhile the order will directly send out to the kitchen printer to prepare the order.